IT-3 technical breakfast: optimize your systems' size
November 21, 2019, Stackscale will participate in a "technical breakfast" organized by ServoTIC, TransparentCDN and Raipson Security at Impact Hub (calle de la Alameda, 22, Madrid).
Our cofounder and VP Sales, David Carrero, will talk about Stackscale's expertise and quality of service, which position us as a safe bet when choosing Private Cloud and infrastructure solutions.
The event will start at 9:00AM (and will go on until 2:00PM, approximately), and will gather several tech companies. Which you will have the chance to network with during the coffee break and cocktail.

IT-3 technical breakfast theme
ServoTIC and TransparentCDN will focus their presentations on how to optimally size their clients' systems and how it helps them reducing costs.
We will talk about Stackscale's role as Private Cloud and infrastructure provider for these companies' clients. Our efficient problem solving, controlled and right-size costs, and quality of service are some of the keys to success in our collaboration.
Furthermore, Raipson Security, IP-Label and Sun Media will also share their ideas and experience on related themes, such as ethical hacking.
If you are interested on the theme and you would like to know more about it, do not hesitate to sign up to the event through this form. See you at Impact Hub on November 21!
Stackscale participates in Meet Magento Spain 2019
Meet Magento, the official event of the Magento community, is back to Madrid. The Meet Magento Spain 2019 event will take place the next October 28, 2019 in the Teatro Goya Multiespacio, and Stackscale is one of the sponsors.
This internationally known event is an excellent opportunity to discover the latest trends and technological innovations across the eCommerce industry. Each edition focuses on a different subject and Meet Magento Spain 2019 focuses the attention on eCommerce professionals.
As for previous editions, the event is supported by many influent companies within the world of eCommerce, both national and international. During the event, merchants and eCommerce experts will share the experiences and strategies that have helped them succeed.
Agenda and speakers that will attend the Meet Magento Spain 2019 event
Meet Magento Spain 2019 will welcome experts across the eCommerce and tech industry, such as: Mikel Ruiz, CTO at On4U; Kathleen Claes, Director of EMEA Sales at Adobe; Francesca Ceron, Digital Project Manager at PRONOVIAS GROUP or Javier Moreno, Head of Merchant Services, Spain & Portugal at Paypal.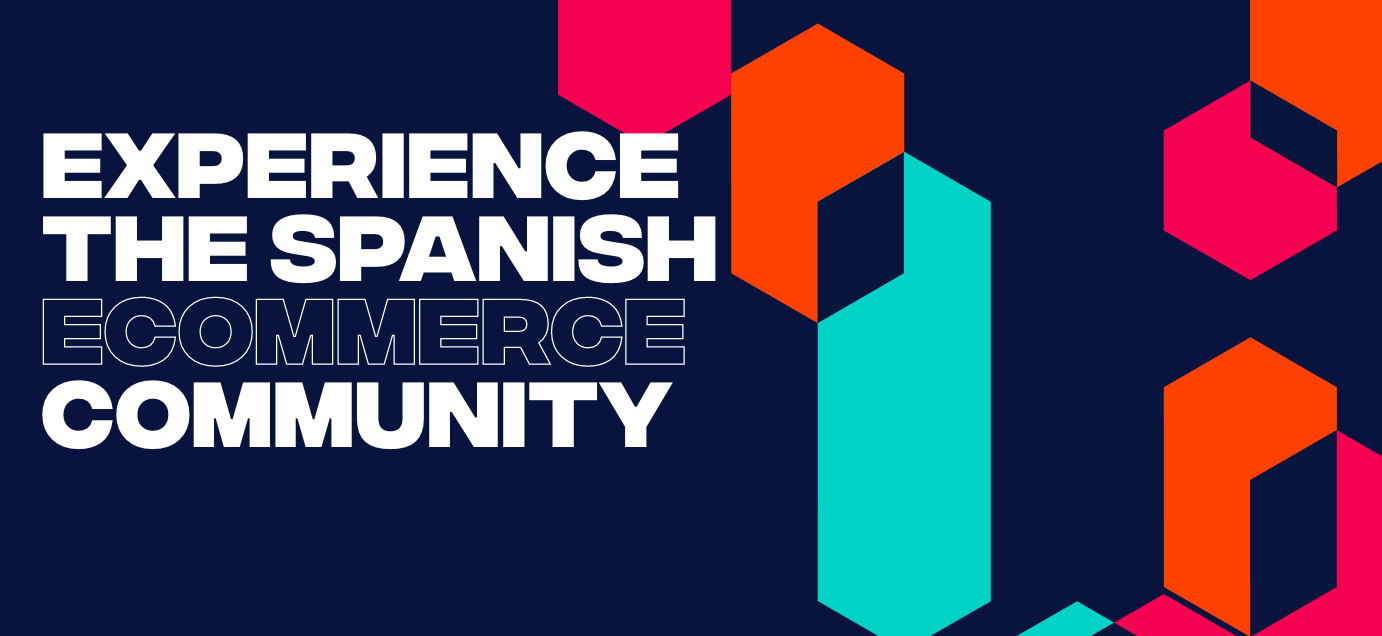 The event will kick off with Ben Mark's talk "The future of Magento ecosystem", and a workshop by Hamid Lakaf and Carlos Dufour from Akeneo. As usual, the day will be full of interesting talks related to eCommerce, such as: "Innovating for the digital consumer" by David Recio, "Magento SEO do's and don'ts" by Jordi Ordóñez-Burgués or "Achieve great Magento 2 performance: the basic, the advanced, the secrets" by Fabrizio Balliano.
Furthermore, during the Meet Magento Spain 2019 event, there will be some round tables and our Country Manager, David Carrero, will participate in the one focused on hosting.
This year's agenda is very complete, so we recommend you to choose the talks that seem more likely to be useful for you in order to make the most of the event. And, if you want to talk about Cloud solutions for eCommerce, don't hesitate to come by our stand to talk about your projects, we'll love to talk about past experiences and future projects with you!
Do you want to be part of the Spanish eCommerce event of the year? You can still get your ticket for the Meet Magento Spain 2019 event. If you're a merchant, get it for free.
See you at Meet Magento Spain 2019!
Stackscale attends the Tarugoconf 2019 event
The Tarugoconf is back! The Tarugocof 2019 event will be full of talks and workshops about designing, building and commercializing technology. Since the first edition in 2016, this event welcomes a wide range of profiles across the world of software and the Internet: developers, marketers, designers…
After the previous editions' success, the organizing committee has gone all in this year and has multiplied tickets by 5, and we do not want to miss it for anything in the world. So, besides sponsoring the event, we will be there on Friday and Saturday to enjoy the great talks and environment that characterize this event.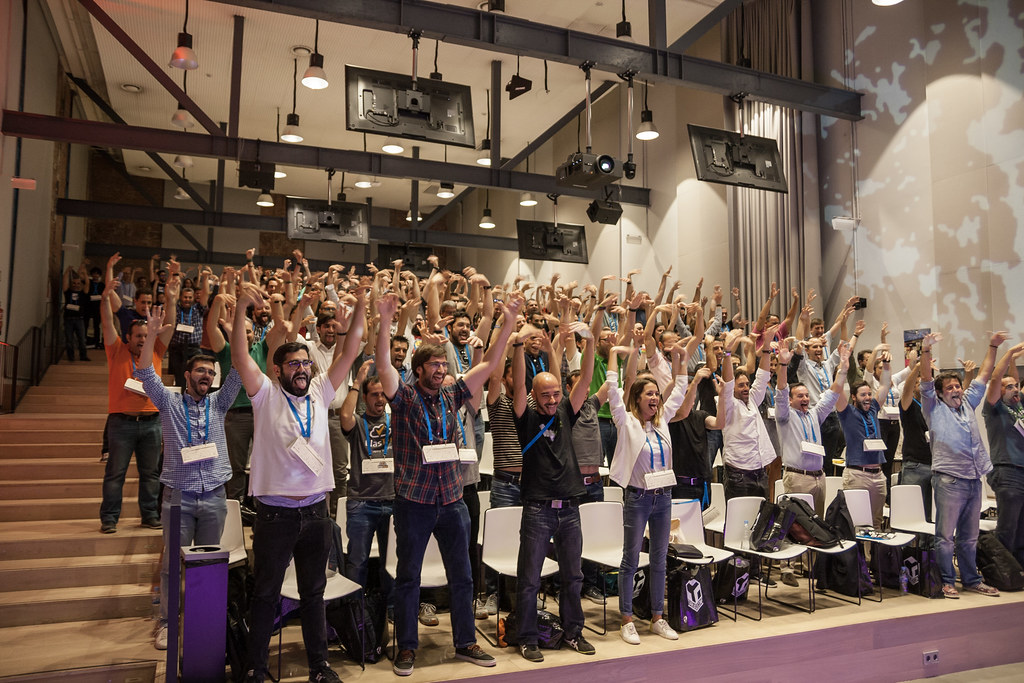 4th edition of the Tarugoconf event
The Tarugoconf 2019 event will take place from Thursday 24 to Saturday 26 October and its agenda is full of interesting talks and workshops. This year's event starts earlier, on Thursday, October 24, with a preliminary day full of workshops, in the Google for Startups Campus; which will end with the re-release of The Matrix in the Palacio de la Prensa, for celebrating its 20th anniversary.
The main event will take place on Friday 25 in La Nave (Calle Cifuentes, 5, Madrid) and it will address varied and interesting subjects around podcasting, unicorns 2.0 or Data Science.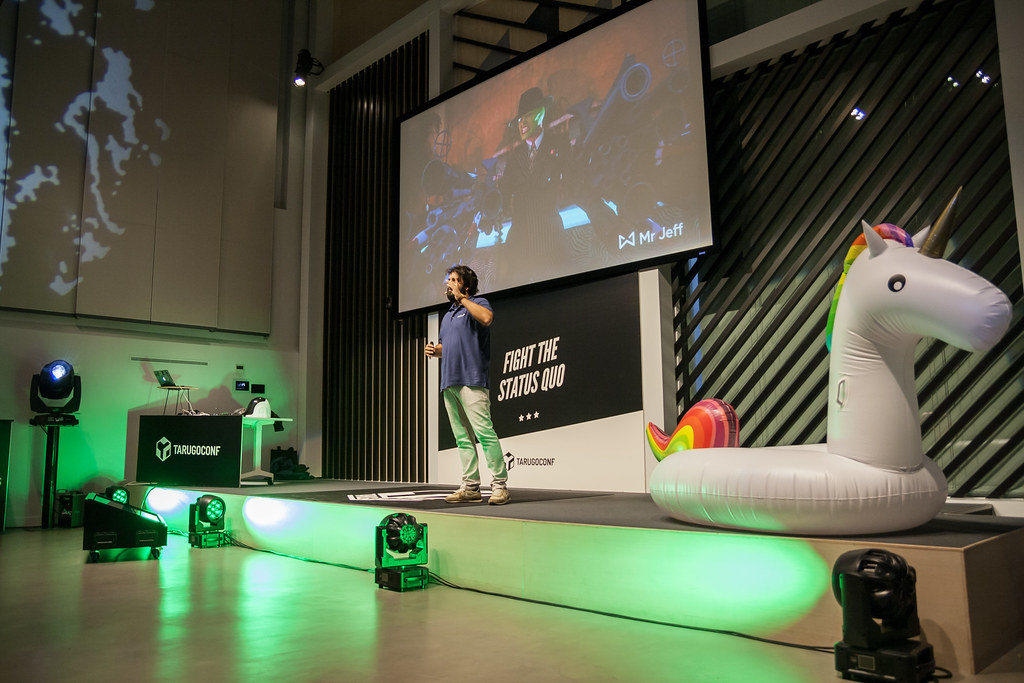 Moreover, since we are one of the sponsors, Stackscale will have a special "power" during the event, so stay tuned!
Finally, to continue with the tradition, the event will end with the classic "Sábado Tarugo" (Tarugo Saturday), the family-friendly part of the event, which will take place in Faunia -a botanical garden and zoo in Madrid.
You can find out more about the event in their website and follow the event on Twitter with the hashtag #tarugo4!
What's a Data Center?
A Data Center or Internet Data Center is a facility where an organization or a service provider centralizes their necessary computing resources.
The term Data Center has become very common. Nowadays, most of the data we manage -from mobile phones, tablets and computers- ends up stored in these Data Centers; which many people refer to as the Cloud, in a more generic way.
What does a Data Center look like?
Throughout the following video you can get to know how a Data Center looks like, with a guided visit around our Interxion MAD2 Data Center located in Madrid. We are sure that our most curious readers will love discovering more about one of our hosting infrastructures in Madrid and Amsterdam.
Data Centers have exclusive use spaces where companies keep and operate their IT infrastructures. In these spaces, servers and storage systems can be hosted in order to execute applications that process and store the companies' data.
Some companies have a cage or one or several racks, while others can have private suites to host a given number of racks, depending on the company's size.
The Data Center provides the technical space prepared with a raised floor under which electrical sockets are installed to connect the racks.
Controlling the climate is essential to maintain the right temperature and humidity parameters that ensure the correct functioning and operative integrity of the hosted systems. For doing so, Data Centers have redundant power supply systems, diesel backup generators, redundant and very efficient cooling systems, fire detection and extinguishment, water leak detectors and security controls.
A physical Data Center can host virtual Data Centers, known as "Cloud Data Centers or Private Cloud", whose price is lower thanks to virtualization. Each virtual Data Center is completely independent, and therefore enjoys the maximum guarantees in terms of security, availability and flexibility.
At Stackscale we select reference Data Centers in every geographic location we implement. Today, we have infrastructure in Madrid, at Interxion MAD2 adn Equinix MD2, and in Amsterdam, at Equinix AM5.
Now it's time for the website
And after more than two years in Spain without a website but with our solutions in production it is now time to launch the first version of our web site.
Of course we have much to do so we have chosen to launch a website that is simple and functional.
Two-thirds of European companies use cloud computing
Interxion, specializing in independent datacenters for the accommodation of ICT equipment, has held the 2014 survey to providers of Hosting services and Cloud in Europe. Held for the second consecutive year, it was based on interviews to more than 400 companies, of which 61 are Spanish, as well as managers in the Europe-wide IT sector, analyzing the growth of the cloud services market in the last year and also includes future forecast statements.
According to the study, cloud services continue to lead the demand among users with 39% of the total, while the traditional hosting maintains a high level at 31%. Both in Europe and in Spain, companies are still in the process of adoption of the cloud and rely on local suppliers for this migration.
One of the Spanish service providers that responded to the survey is Stackscale, a company born in 2012 with a focus on providing customers great technical platforms. Despite being a cloud provider, Stackscale offers its clients the physical infrastructure, but with the advantages of having a virtualization layer on top. The client manages the virtual environment and Stackscale is able to migrate said environment to another server if there is a problem. To overcome these barriers, Stackscale boasts SAMP, a software developed by them that allows you to monitor and automate services.
The study also highlights that most service providers are in a phase of transition between the traditional hosting and cloud services. For this reason, it was expected that the impact of cloud services on current and estimated revenue was significant. However, the study highlights that contrary to expectations, cloud revenues represent a relatively small proportion of current revenues, although respondents expect a significant growth in the next three years. Thus only 10% of respondents indicated that more than 60% of its revenues come from cloud, although this percentage nearly triples in 2016 estimates.
Another important conclusion is that service providers still prefer to have their own IT infrastructure located in their own data center or with a colocation provider, represented by 72% of the respondents. Half of them uses a hybrid infrastructure, mixing their own infrastructure with cloud services. It should be noted that a significant portion of respondents used the cloud as an alternative service for back-up facilities.
While systems integrators are considered the main competitors of the hosting providers, the growth of global cloud platforms is causing a change in the perception and is already at a close second place. Given the pace of localization of these platforms in multiple European countries, there is also its growing influence in the local market.
Source: Digital Business News and CoBusiness
With Stackscale we break with our earlier offering…
With Stackscale we break with our earlier offerings, we now define ourselves as a provider of cloud services directed specifically to companies with large technical platforms and seeking "predictable returns".
Cloud Computing takes 25% of the budget European enterprises
The worldwide investments in cloud computing is at a steady pace of growth and has now reached levels of 23% of the budget of the information technology (TI) of the companies, and is expected to increase to 27% over the next three years, although I will bet that it will be more. Figures in Europe are located around 19% and in only three years, it is expected that they'll be approaching 25%.
As stated in the report by Cisco Consulting Services (CSC) and Intel among more than 4,000 managers (CTO, CIO,…). Of the respondents 86% already use third-party cloud services and they are satisfied with the service they are receiving, despite the fact that the demands are very high for cloud services. Among the main requirements of companies to jump to the cloud are available mechanisms of high security, personalization, and guarantees of service through SLA (service level agreements), and no doubt involving a systems consolidation and cost reduction.
Although we still have barriers to overcome, especially in security and complexity of use, it is clear that 8 of every 10 polled technology managers are sure that cloud services have a very positive impacting in their companies at different stages of the cycle of consumption of IT (planning, investment, deployment, operations and management). But the vision of cloud computing is not the same in emerging market s than in advanced countries. The emerging countries, such as China, India, Mexico or Brazil see it as a tool to transform and improve productivity, while countries such as United States, United Kingdom, Spain, Germany or Canada give much importance to their potential to consolidate systems and save costs.
The appeal of personalization of the cloud
It is also clear that systems customization, and the ability to adapt very easily to the needs of customers, with solutions more adhoc, more optimized and efficient, is the key to why many companies think seriously about using the cloud. More than 75% of the IT managers see their companies and departments as an "orchestrator" (same as the cloud) of internal and external services to cover different areas of business, providing security and technical support.
Download the CISCO report: The Impact of Cloud on IT Consumption Models
Source: Acloudhosting
The exorbitant increase in data requires innovation in storage
I liked this reference in Acloudhosting in which they highlight that the exorbitant increase in the data is demanding innovation in storage. The report of Enterprise Strategy Group (ESG) makes it clear that companies maintain a continuous struggle to manage and protect their data. High availability, data replication, including the relocation of the backups are the key to the solution.
However, companies need to contain costs as they adopt new advanced storage technologies, while managing their data growth. These are key factors depending on the type of storage used, technologies such as de-duplication to reduce the occupied amount of data on disk. And also storage systems based on distributed systems of servers full of disks. Systems such as ReiserFS or ScaleIO enable redundant storage at very competitive costs.
From the report we highlight this chart where we see the most significant areas for companies when choosing their storage solutions.
Undoubtedly most important things is the protection of data, followed by the virtualization of the data. After this disaster recovery and data replication come in at third place. This reminds me of the systems that we are introducing in Stackscale that focus on many of the referenced points, but especially the first three. Within the centralized storage solutions we have NetApp-based solutions that provide a high level of data protection and facilitates data replication, as well as disaster recovery, for example, by easy data replication between our CPD in Madrid and Holland.
Other solutions for distributed storage that we are testing for our customers are based on solutions with ReiserFS and ScaleIO, and provide levels of security and replication at the same level as a NetApp or HPC cabin, but at much lower cost level.
Source: acloudhosting
Stackscale signs agreement with Interactiv4
The supplier of premium Private Cloud, Stackscale, with infrastructure in Amsterdam and Madrid, has signed a partnership agreement with Interactiv4, specialists in Magento and e-commerce solutions.
Stackscale is a Private Cloud hosting service designed for companies and projects that demand high computing resources and has a team with over 15 years of experience in web hosting.
Its founders, David Sanchez, Javier Primo, David Carrero Fernández-Baillo and Jeroen Derks, launched this project earlier this year and all of them have extensive experience in the hosting industry and the latest technologies.
David Carrero Fernández-Baillo, CEO and Country Manager Spain, gives us his opinion about this agreement: "It is always a pleasure to work with the best professionals in e-commerce and to be able to build together advanced hosting cloud solutions. The Stackscale-Interactiv4 partnership goes beyond a simple agreement, it's a very close relationship to achieve the best integrations, with clear objectives such as performance, stability, and scalability for any e-commerce solution".
David (pictured) was working prior to founding Stackscale in the Department of Marketing Online of Acens Technologies. Known within the sector, this entrepreneur and consultant in new technologies is specialized among others in Internet services, web hosting, web design, dedicated services, Linux, PHP and MYSQL and has founded companies like Ferca Network.
Stackscale offers cloud solutions and is intended to be a way for customers to save money and effort by using advanced technologies. Its principles are based on the belief in the use of cloud computing for high availability, flexibility, scalability of platforms and advanced security. Virtualizing using the best known solutions, including the latest Open Source technologies. Always with the premise of simplifying the use thanks to a team of highly qualified professionals and an efficient consumer support service to be able to offer a great service at a very competitive price.
And for whom is Stackscale? It is intended primarily for:
Businesses that need very high computing resources and to consolidate their infrastructure, since the minimum to start with is 128 GB of RAM.

Also for those hosting providers who wish to have a Public Cloud, as one of its lines of business is the sale of small parts of your Private Cloud to a third party.

The possibility of counting on its team for system administration and 24 x 7 monitoring at the level that each client needs.

And for companies that spend more than € 500 in hosting, since they can save much by changing to Stackscale. In addition they can take advantage of the availability of infrastructure in data centers in Madrid, Amsterdam and soon the United States.
Stackscale is currently in beta, although it has already well-known customers that confide in their solutions, while developing adjustments to its final version, which will be available in Q4 of this year. Meanwhile, you can access the beta on the web site of Stackscale.
Source: acloudhosting