By design, Stackscale's data network is spaciously oversized, redundant at all levels and without bottlenecks.
Multi-100 G CORE network.
Interconnected to some of the largest European Internet Exchange Points.
State-of-the-art, bottleneck-free network.
Over 4 Tbps of aggregated capacity.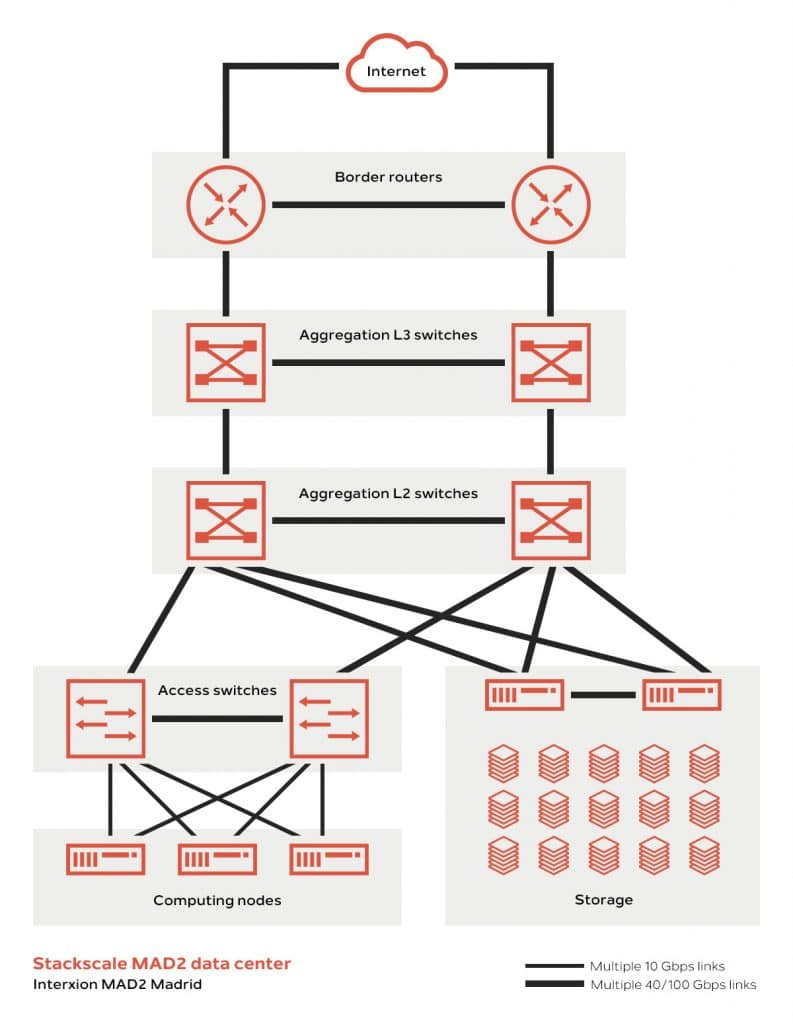 Stackscale's data network
Aggregation multi-chassis links form the skeleton of the network within the data center. They provide redundancy and scalability while preventing the formation of loops.
Each data center has a pair of border routers that facilitate the connection to the Internet and other centers. Behind them there are Layer 3 aggregation switches, layer 2 switches and, finally, access switches to which the compute nodes connect.
All logical switches are in pairs to achieve redundancy. These switches connect to all of the devices over the aggregated multi-chassis links, consisting of 2 or more 10 G, 40 G or 100 G connections. This topology prevents the risk of formation of layer 2 loops.
All networking equipment is wire speed, meaning they reach 100% bandwidth capacity of the interfaces, regardless of the circumstances, filters and type of traffic. This is achieved through the use of application-specific integrated circuits (ASICs).
Interconnected to some of Europe's largest IXPs
Our network interconnects the data centers where we host our infrastructure in Spain and the Netherlands, and it is connected to some of the largest European Internet Exchange Points, such as Espanix, AMS-IX and DE-CIX.
Our network is based on Ethernet with a minimum speed of 10 G, with 100 G aggregated ports. Apart from our interconnections to some of the largest European IXPs, we are also interconnected to five Tier 1 telecommunication companies and a considerable amount of other companies through private peering agreements.