We want to share with you an initiative to fight against the coronavirus Covid-19 on which a member of our team, David Carrero Fernández-Baillo, collaborates actively.
During the last weeks we have seen how both companies and citizens have shown their most proactive and solidary side. Everyone is collaborating however they can to fight against the pandemic; either by staying at home or working on the front line to cover the citizens' basic needs. We certainly need all the help we can get and among the numerous initiatives that are arising to fight this healthcare crisis, we want to talk about a project we follow closely: the project "Proyecto Respiradores – Fighting Covid 19".
What's the project "Proyecto Respiradores – Fighting Covid 19"?
A group of entrepreneurs from EO Madrid started the project "Proyecto Respiradores – Fighting Covid 19" with the goal of doing their bit to fight against the coronavirus Covid-19 crisis; among these entrepreneurs there is one of Stackscale's co-founders, David Carrero.
This project is a non-profit initiative to search and purchase second-hand ventilators in Europe, that has already achieved to bring about 90 ventilators to different hospitals in Spain. Among the most active EO Madrid members are Eduardo Fernández from ShuttleCloud, Alex Marín from La Mucca Restaurants, Cristina de Santisteban from Boss Continental, Sascha Badelt from IE Business School, Javier Bustillo from ECIJA and Fernando Arencibia from Habbertec.
Furthermore, an essential collaboration for finding this medical equipment for assisted ventilation has been the help offered by Dorothea Bender, Eduardo's wife, and her parents, who own the German company Bender Electronics. Their help has been key for the project's success, so it has been Lain Hermes González Quarante's help, a neurosurgeon of the Clínica Universad de Navarra, who is in charge of validating whether the equipment for assisted ventilations they find is suitable or not, counting on the help and advice of intensivists and anaesthetists.
The project started with an initial €55,000 private investment, that EO Madrid's members destined to purchase 11 ventilators for the Gregorio Marañón hospital. The search being a success, and as they kept finding further available equipment, they decided to create a crowdfunding campaign to keep bringing ventilators and therefore saving more lives.
The members of this international entrepreneurs' organization — with the collaboration of other entrepreneurs and all those people that have contributed to the campaign on Gofundme — have got to bring, so far, ventilators for hospitals all around Spain, such as: Gregorio Marañón, La Paz, Infanta Sofía, IFEMA's field hospital, Puerta de Hierro, San Carlos, Clínica Universidad de Navarra, 12 de Octubre, Infanta Cristina, La Princesa, Móstoles' hospital, Getafe's hospital and El Escorial's hospital in the Community of Madrid; Doctor Josep Trueta Girona's hospital, Bellvitge and Parc Taulí hospitals in Barcelona, Guadalajara's hospital, Mancha Centro hospital in Alcázar de San Juan and Santa Bárbara hospital in Soria.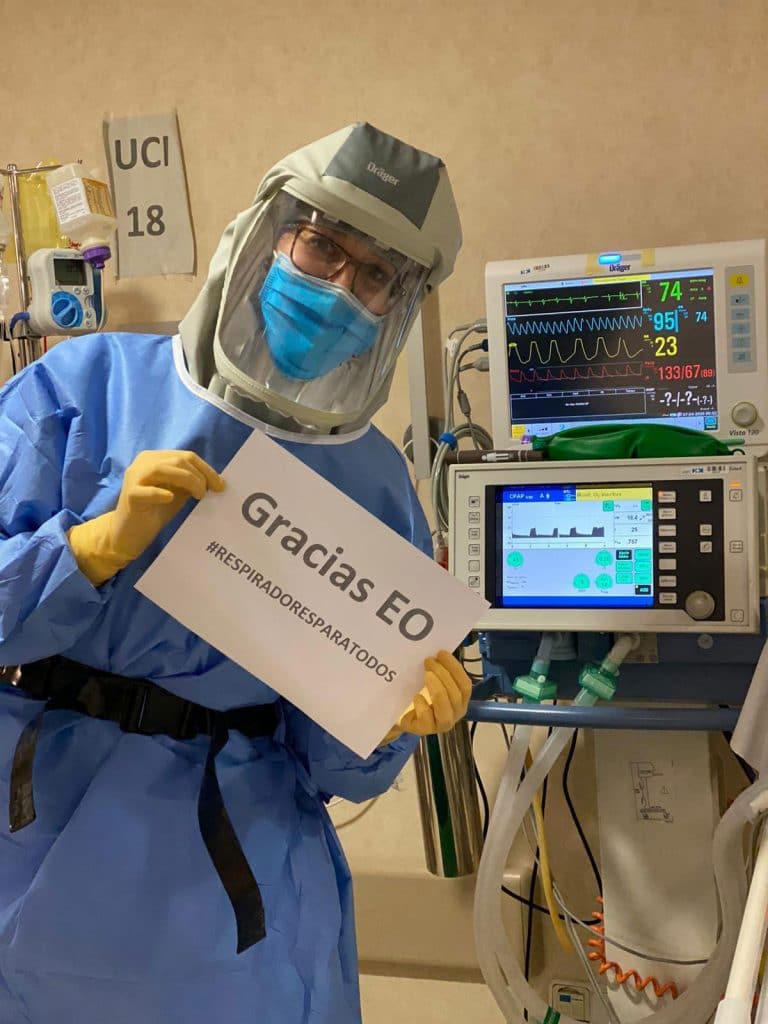 As our VP Sales and co-founder, David Carrero Fernández-Baillo, explains:
"This initiative is possible thanks to the efforts made by the whole entrepreneurs' organization and specially to the hard work of Alex, founder of La Mucca, and Eduardo, founder of ShuttleCloud, among other members. Of course, we can't forget about the donations made by thousands of people who are helping us to deliver ventilators much faster than the current Spanish government. We need all the help we can get and this is one of the ways in which we collaborate to face the coronavirus and save lives."
For further funding, they are currently evaluating different solutions through private business owners and talking to different foundations and administrations that have showed an interest in collaborating in order to save more lives.
Please don't hesitate to collaborate, either by sharing or contributing in the crowdfunding campaign "Proyecto Respiradores – Fighting Covid 19".
Update: The project and the crowdfunding campaign ended once the healthcare system's needs were covered. Between the crowdfunding campaign and other donations made through private companies and entrepreneurs this initiative raised nearly €1 million, allowing to bring more than 95 ventilators to different hospitals in Spain.