06/04/2021 – Madrid
Due to the increase of many digital activities because of the lockdowns and restrictions provoked by the coronavirus pandemic, Internet traffic has rocketed during the past year. As the cloud provider Stackscale explains, the increase has been significant around the world. Remote work, video streaming, video calls and online shopping are some of the activities that have grown the most and have contributed to such increase.
Ecommerce has increased considerably as consumers have changed their purchasing habits. Moreover, during the pandemic, telework in the EU has exceeded 30%, according to Eurofound (2020)'s report. This acceleration of the digital economy has also increased the demand of cloud solutions, connectivity services and virtual private networks, among other solutions. As David Carrero Fernández-Baillo, co-founder of Stackscale, explains:
"Since the beginning of the crisis we have seen how our Internet traffic has grown by more than 50%. This acceleration has motivated us to conduct some improvements regarding our infrastructure and network earlier than planned, in order to increase our network's global capacity; foreseeing that the traffic volume and the demand for cloud and connectivity services would continue to grow. In addition to strengthening our data center's network in Madrid and Amsterdam."
The acceleration of the digital economy is reflected on the graphs of Internet Exchange Points (IXPs) worldwide. Internet Exchange Points, such as AMS-IX in the Netherlands, have significantly increased their Internet traffic between March 2020 and March 2021. AMS-IX's traffic, for instance, has increased from about 5 Tbps to about 7 Tbps. The statistics of other European IXPs, such as DE-CIX in Germany or ESpanix in Spain, also reflect a significant increase; as shown on Stackscale's infographics.
Generally, Internet traffic has grown all around the European Union, according to data from the Internet exchange point directory report by Packet Clearing House. Among the countries that have experienced a greater increase, there are Luxembourg (+239%), Latvia (+150%), Lithuania (+85%), Finland (+51%) and Spain (+41%). Furthermore, Internet traffic growth is even more noticeable globally, with Egypt (+12000000%), Zimbabwe (+543%) and Chile (+537%) leading the list.
Internet traffic growth from 2020 to 2021 infographics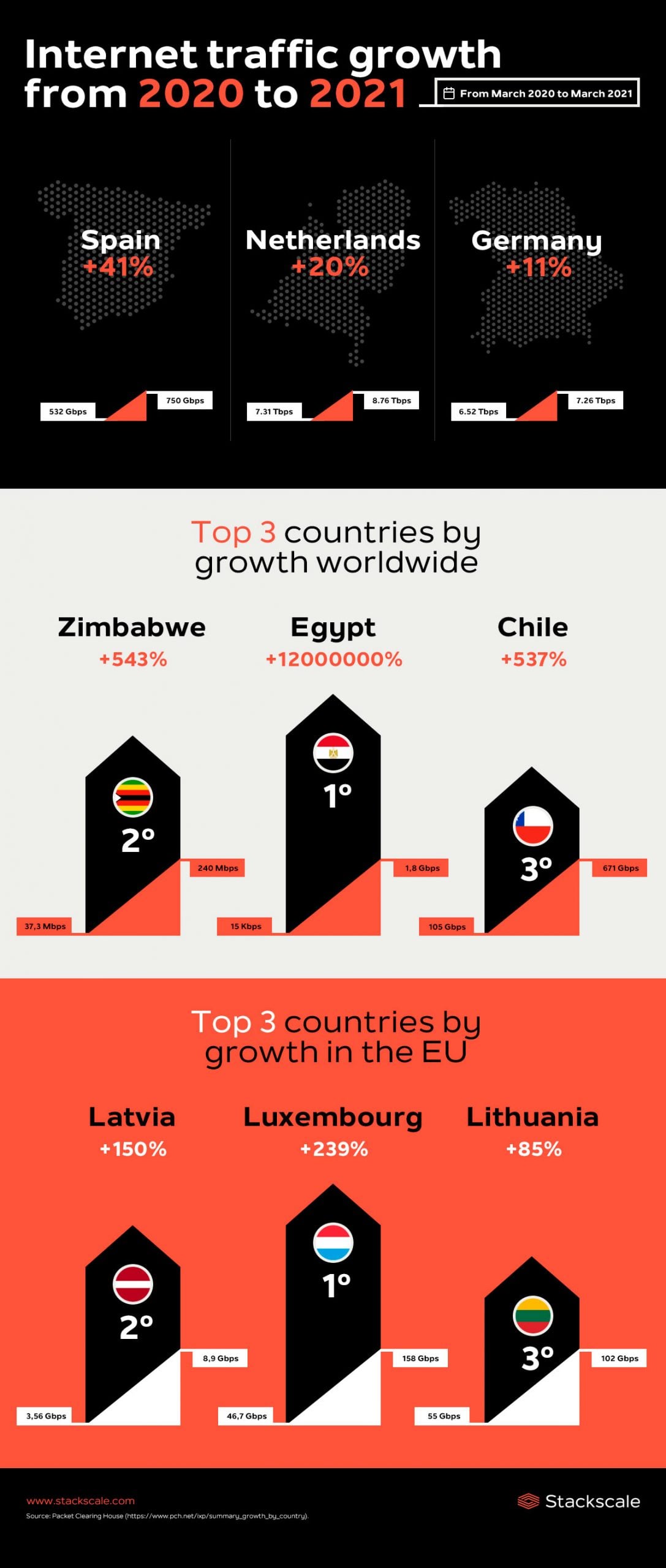 For further information, please contact us via our contact form.