AMS-IX (Amsterdam Internet Exchange) is an independent, neutral and non-profit Internet exchange point. It is a member of the European Internet Exchange Association (Euro-IX). Stackscale is connected to AMS-IX with a clear objective: improving our connection routes to all the providers that exchange traffic there. In addition to the Amsterdam Internet Exchange, we are connected to other IXPs such as ESpanix and we are interconnected to diverse Tier 1 operators and a great number of companies through private peering agreements.
AMS-IX Infrastructure and interconnection
AMS-IX is one of the largest hubs for Internet traffic in the world; established in the 1990s in Amsterdam, The Netherlands. Nowadays, it operates multiple interconnection platforms around the world. Its platform is always evolving in order to support its constant, rapid growth. In 2020, it reached a new peak in traffic: 9 Tb/s. Its members can connect at 14 different locations: Digital Realty (AMS01 and AMS04), Equinix (AM1/2, AM3, AM5, AM6 and AM7), NorthC Amsterdam (AMS01), euNetworks, Iron Mountain, Global Switch, Interxion (Schiphol Rijk and Science Park) y NIKHEF.
Traffic
The following graph from AMS-IX stats website shows aggregated traffic statistics from September 2019 to mid-January 2021. Its daily, weekly, monthly and yearly stats are available on their website.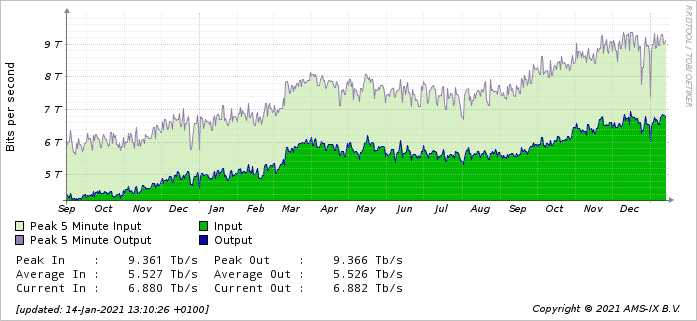 IPv6 traffic
Regarding the adoption of the IPv6 protocol, the following graph shows AMS-IX IPv6 traffic from April 2020 to December 2020.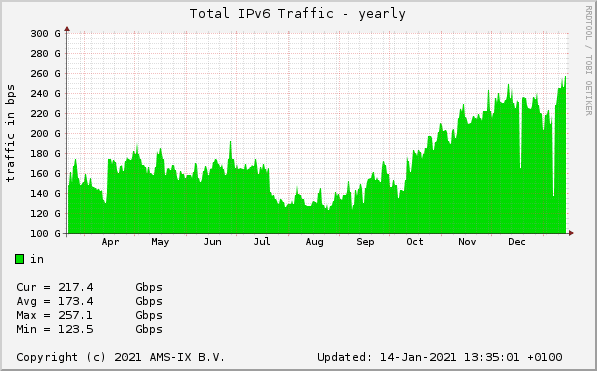 AMS-IX history and evolution
AMS-IX history started back in 1994 with its first layer-2 shared infrastructure. It was used between academic organisations to exchange traffic. However, it was in 1997 when twenty ISPs and carriers founded the AMS-IX association. The evolution of its traffic has been amazing, just from 2002 to 2012 it went from a peak traffic of 12 Gb/s to a peak traffic of 2 Tb/s, respectively. In 2016, the IXP reached a 5 Tb/s peak; which has almost doubled in four years.
AMS-IX is one of the largest Internet Exchange Points in the world, among the more than 150 exchange points distributed around the world. You can see the complete list of worldwide IXPs here.
Discover more about our network.