In this article we are going to present the main types of cloud computing: Private Cloud, Public Cloud, Hybrid Cloud and Multicloud. Cloud computing has radically changed the traditional IT services model. This shift entails challenges but also numerous advantages. That is why a growing number of companies have been and still are adopting cloud solutions. As Stackscale's co-founder, David Carrero Fernández-Baillo, says:
"At Stackscale we have seen how the implementation of cloud solutions has grown among companies of all sizes at an impressive rate during the last decade."
Having a virtualized data center provides a lot of benefits to organizations and each type of cloud offers different advantages. The right model for a company will depend on the business' needs. Besides aspects such as performance, industry regulations, costs and security policies must also be taken into consideration.
Private Cloud
The Private Cloud is a cloud computing deployment model in which the environment and computing resources are of exclusive use by the customer.
A Private Cloud is comparable to owning a data center in a company — with its own infrastructure and dedicated servers —, but where services can be sized on demand thanks to virtualization. This is the type of cloud we design for our customers at Stackscale. It allows companies to forget about the management of bare-metal servers at the same time it accelerates provisioning and deployment procedures. In addition to providing a certain level of elasticity.
Private Cloud solutions offer greater security and control to companies, since they do not have to share their resources with other customers. This way, as it is an environment of exclusive use, they also get rid of noisy neighbors that can damage their platform's performance in other types of cloud. The concept "Cloud DataCenter" is often used to refer to the Private Cloud as well.
Moreover, when opting for a Private Cloud customers can know the location of their services, among many other advantages. For instance, at Stackscale, our infrastructure is located in five state-of-the-art data centers in Europe — Interxion MAD2, Equinix MD2 and Interxion MAD3 in Madrid and Equinix AM5 and NorthC Almere in Amsterdam.
Originally, Private Cloud environments used to be hosted in on-premises data centers within the company's facilities, but this is less and less common. Why? Because opting for a hosted Private Cloud in a specialized data center provides much more value and advantages to companies.
What are the costs of a Private Cloud environment?
Unlike some companies might think, a private cloud is not necessarily more expensive than a public cloud. At Stackscale we want to debunk that myth and we do so by offering truly competitive Private Cloud solutions. We design and develop high-performance private cloud environments so that companies do not need to invest a lot of money on hardware.
The Private Cloud deployment model allows businesses to remove big initial investments in equipment acquisition (CAPEX) and reduce management costs (OPEX). All that without giving up the advantages of having dedicated computing resources. Moreover, Private Cloud providers are in charge of guaranteeing the technological evolution of the infrastructure, so companies do not need to cover that cost overrun.
In which projects is it recommended to opt for a Private Cloud?
Private Cloud environments are ideal for any type of organizations and projects. Although it is often used in companies that have a high amount of resources and technology systems, such as: eCommerce solutions, financial institutions, public administrations, IT services providers, high traffic websites and other companies where guaranteeing the servers' location, optimizing costs and keeping computing resources exclusive is essential.
Private Cloud is the most common cloud deployment model to host mission-critical data and applications demanding strict performance, availability and security requirements. Discover some case studies of companies that have opted for Stackscale's Private Cloud.
Public Cloud
The Public Cloud is a cloud computing deployment model in which a cloud service provider offers resources over the Internet with a pay per use model.
Public Cloud environments are known for being extremely flexible and scalable, but since they run on an infrastructure shared with more customers they have some disadvantages compared to dedicated cloud solutions. When sharing the infrastructure with other companies, performance can be negatively affected by the activities of noisy neighbors — since the oversubscription of resources is common in Public Clouds. Furthermore, despite what people usually think, Public Cloud solutions are not always the most economical option, as we explain below.
What are the costs of a Public Cloud environment?
Sharing resources in Public Cloud usually involves considerable savings during the initial phases of a project. However, this economic advantage tends to disappear as the platform evolves. Oversubscription limits the control over the resources and, as a consequence, over cloud costs. This can lead to contracting more resources than necessary. As we explain in our article about the benefits of migrating from on-premises to cloud in terms of cost-efficiency:
"Cost management must be approached differently when moving off-premises. Fast provisioning in the cloud must be properly managed to keep control of costs over time."
Moreover, as projects grow, it is easy for Public Cloud costs to become hard to control, since deploying resources so easily and quickly can incur unnecessary expenses. So, in projects hosted in Public Cloud environments, it is very important to carefully keep control of the contracted resources. Not only to optimize costs, but also to keep them under control.
In which projects is it recommended to opt for a Public Cloud?
Public Cloud can be a good starting point for small projects and startups, since it can be deployed very quickly. However, as we mentioned before, as the company and project grow, the expenses run the risk of going through the roof. That is why more and more companies opt for combining Private Cloud and Public Cloud environments to leverage the advantages of both models, as we explain below.
Hybrid Cloud
The Hybrid Cloud is a cloud deployment model which combines private computing resources and public computing resources.
The Hybrid Cloud deployment model combines the previous two types of cloud: the Private Cloud — which is used for mission-critical applications and data in order to guarantee high performance, availability, security and control — and the Public Cloud — for handling unusual traffic peaks.
So, this hybrid model combines the advantages of both private and public cloud environments to provide additional flexibility to companies. The key to a good hybrid cloud is guaranteeing a good interoperability between both environments, so that its management is agile and efficient. These are some of the elements it is important to control because they can be critical in an Hybrid Cloud environment:
Security: the Hybrid Cloud data transfer flow must be controlled with encryption solutions and VPNs. At Stackscale we offer solutions to interconnect the infrastructure and Private Cloud solutions of our clients with Public Cloud solutions such as Amazon Web Services (AWS), Microsoft Azure or Google Cloud. Please do not hesitate to contact us for more information.
Hypervisor: it is possible that the Private Cloud and the Public Cloud hypervisors are different. Therefore, it is necessary to use a solution to simplify the interoperability between both of them.
Vision of the platform and service: it is necessary to have a clear vision of how the infrastructure is deployed in one or several data centers. For doing so, companies can develop solutions, via API, to control it or use some third-party software that makes the management easier.
What are the costs of a Hybrid Cloud environment?
Hybrid Cloud environments can help companies optimize costs, since they allow to place different applications and workloads in the optimal cloud environment for each of them. Nevertheless, it is essential to properly design, deploy and manage the environment in order to avoid unnecessary expenses. Understanding and monitoring cloud costs at a global level is especially important when opting for hybrid cloud or multicloud solutions, in order to avoid surprises.
To make costs management easier, choosing a provider that offers transparent billing can be very helpful. For instance, regarding Stackscale, our simplified price structure and billing policy allows customers to know their infrastructure costs beforehand. This enables them to control their cloud environment costs without the need for complex calculations or formulas and without surprises at the end of the month.
In which projects is it recommended to opt for a Hybrid Cloud?
Hybrid Cloud can be an useful option for companies that need an infrastructure based on the Private Cloud, for greater control over the infrastructure in terms of costs and resources, but that occasionally need to overflow services in a Public Cloud platform.
Multicloud
Multicloud is a deployment model which combines cloud services — both private and public — from several cloud service providers.
The multicloud deployment model allows to combine the benefits of different types of cloud with the specific advantages of several service providers. A multicloud can be composed, for instance, of 2 private cloud environments and 1 public cloud environment. One of the cloud solutions can be used, for example, as an infrastructure reserved for Disaster Recovery. In addition, by combining different regional cloud providers, companies can operate closer to their customers. This can be helpful for reducing latency, complying with data protection and sovereignty regulations, etc.
Multicloud offers an additional level of flexibility and it is likely to become more common over time; especially for big and complex projects that also require more complex solutions. However, since it is a complex cloud solution, it demands a great level of management and security which is not accessible to all companies.
What type of cloud to choose?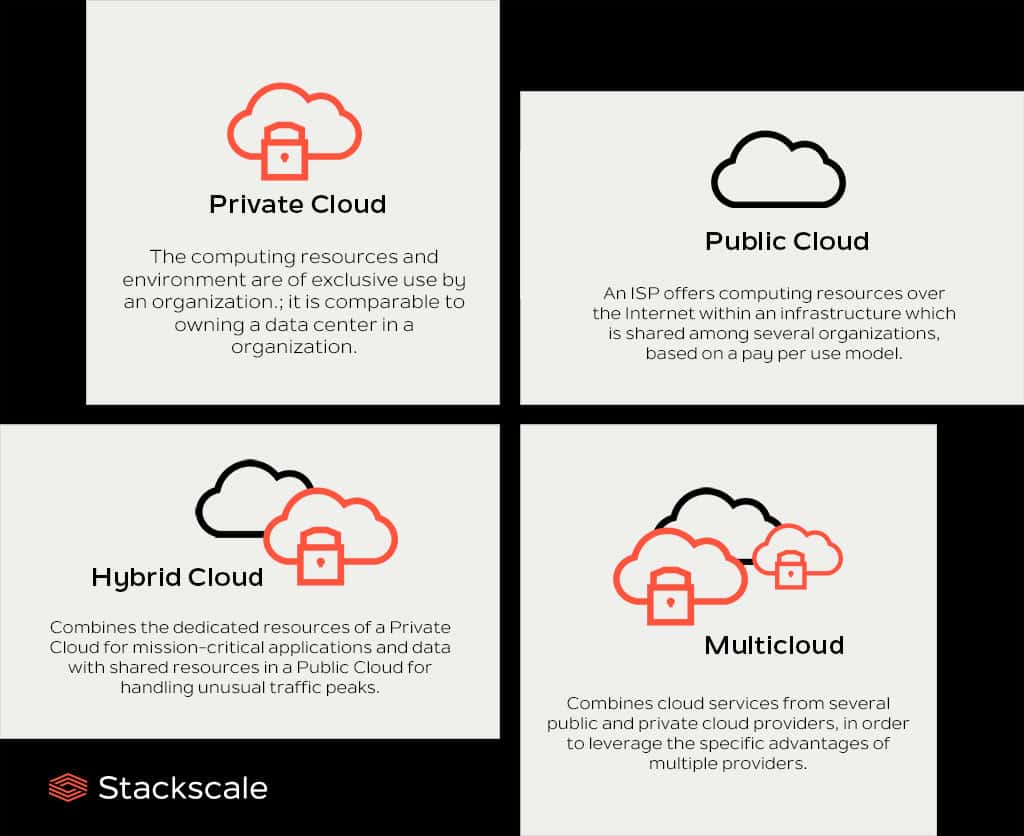 As we have seen, every model offers different features and advantages, and the best option will depend on the needs of each particular company. At Stackscale we believe that a Private Cloud is the best solution for any company that wants to guarantee the exclusive use of its resources and optimize its costs without giving up the scalability and flexibility of cloud computing.
Are you looking for a cloud solution adapted to your business? Tell us about your project and we will help you find a solution that adapts to your needs.
Dutch version: Implementatiemodellen voor de cloud: private cloud, publieke cloud, hybride cloud en multicloud.