Last January, Wikipedia celebrated its 20th anniversary. To commemorate these two decades of open knowledge, we not only want to highlight its progress but also the infrastructure under such a huge project. Wikipedia was launched in January 2001, by Jimmy Wales and Larry Sanger. Ever since, it has not stopped evolving until becoming the huge and open online encyclopedia it is nowadays. It is indeed, according to Alexa's ranking, the 13th most visited website worldwide, and the 7th most visited website in Spain and the Netherlands (where we host Stackscale's infrastructure).
Currently, Wikipedia is run and hosted by the Wikimedia Foundation — a North-American non-profit organisation. The project is funded through donations; without commercial advertisements. The Wikimedia Foundation is in charge of providing technical support, but does not interfere with the content nor the community decisions.
Free, open and collaborative
Wikipedia is a wonderful example of open knowledge; built to be and remain a free, open and collaborative Internet tool. Anyone can edit a Wikipedia entry —except for protected entries, which can only be edited by authorised users or by consensus.
"An effort to create and distribute a free encyclopedia of the highest possible quality to every single person on the planet in their own language."

—Jimmy Wales, co-founder of Wikipedia
Many innovation and engineering projects leverage Wikipedia's open knowledge base for their Artificial Intelligence developments. Wikimedia projects such as Wikidata make it easy for companies and organisations to use their structured data for their own developments.
The 10 largest Wikipedia editions by number of articles
After 20 years of a lot of volunteering work, shared-knowledge and willingness to make this open encyclopedia project a success, Wikipedia is currently available in more than 300 languages. The following language editions of Wikipedia are the largest by number of articles:
English
Cebuano
Swedish
German
French
Dutch
Russian
Italian
Spanish
Polish
Apart from this Top 10, there are a few more editions exceeding a million articles on Wikipedia: Waray, Vietnamese, Japanese, Egyptian Arabic, Chinese, Arabic, Ukrainian and Portuguese.
The 10 largest Wikipedia editions by number of users
Nevertheless, regarding the number of users, these are the current largest language editions of Wikipedia:
English
Spanish
French
German
Chinese
Russian
Portuguese
Italian
Arabic
Japanese
Here you can find more details about Wikipedia language editions.
The Infrastructure of Wikipedia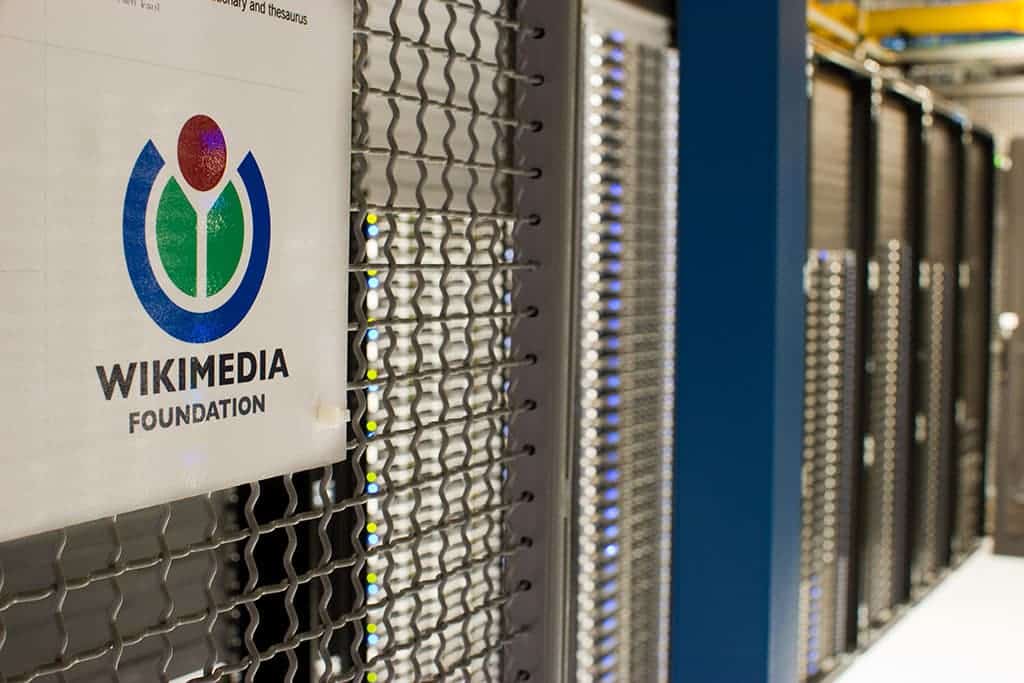 The Wikimedia Foundation has about 1.300 bare-metal servers — according to this talk about the infrastructure of Wikipedia of the 36th Chaos Communication Congress (2019); running Debian GNU/Linux. As a free, open project, it relies on open source software. Varnish, Linux Virtual Server (LVS) and MariaDB are some of the solutions they use. As orchestration platforms, it uses OpenStack and Kubernetes.
MediaWiki
Wikipedia is powered by MediaWiki, a free, open source software (licensed under GNU GPL). This powerful and scalable software is helpful for collecting and organising data in order to make it available to people. So, although it was originally built to run Wikipedia, it is currently used by a large number of websites and organisations.
Data centers and PoPs
Currently, Wikimedia has the following colocation facilities:
eqiad: Equinix in Ashburn, Virginia (US) — primary data center.
codfw: CyrusOnce in Carrollton, Texas (US) — secondary data center.
esams: EvoSwitch in Amsterdam, the Netherlands — PoP.
ulsfo: United Layer in San Francisco (US) — PoP.
eqsin: Equinix in Singapore — PoP.
Besides, Wikimedia has its own Content Delivery Network (CDN), as user privacy is one of their main concerns, and it uses geographical DNS (geoDNS) to distribute requests on demand, depending on the user's location. You can find further details about its architecture, hosting and monitoring on the Wikimedia servers entry and on this podcast about Wikipedia's infrastructure.
Some interesting data about Wikipedia
Finally, here is some interesting information about Wikipedia (as of February 2021).
Number of language editions of Wikipedia: 317.
Active users (those who have made an edit or other action during the last 30 days): > 361K.
Registered users: > 94M.
An asteroid is named after Wikipedia since January 2013: 274301 Wikipedia.
Nevertheless, the most thrilling part of Wikipedia is simply how it has constantly evolved and adapted to become what it is nowadays: a worldwide knowledge base. We wish the community to keep up the good work for at least two more decades!
Images:
By Victorgrigas – Own work, CC BY-SA 3.0, https://commons.wikimedia.org/w/index.php?curid=20348436
By Victorgrigas – Own work, CC BY-SA 3.0, https://commons.wikimedia.org/w/index.php?curid=20348423