A lot of data and actions fit in 60 seconds on the Internet. The Internet has become an indispensable element in the daily lives of more and more people around the world. We use it for learning, looking for information, reading the newspaper, find directions, shopping… We have gradually integrated it in our professional and social lives.
The Internet has become essential for our global society, allowing us to easily keep in touch and work with people around the world. As a result, all the Internet users worldwide generate millions of interactions and contents every minute. Do you wonder which was the estimated data created on the Internet in one minute in 2019? We've chosen 12 facts among the most popular apps and platforms in the following infographic.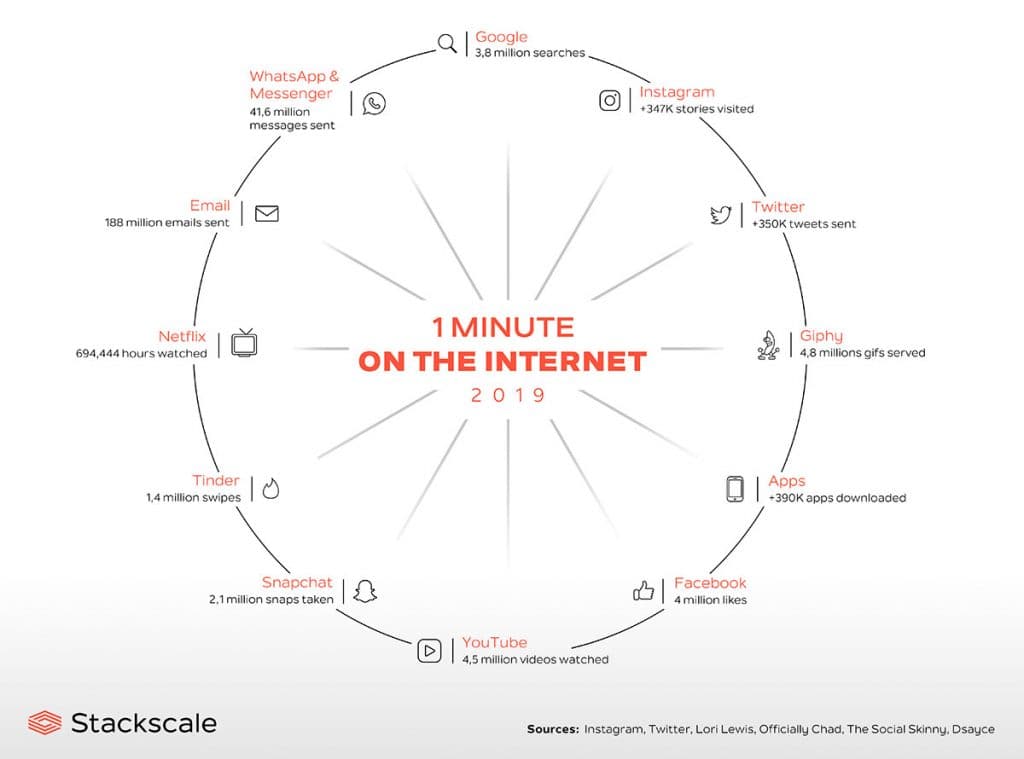 One minute on the Internet
Numbers are impressive. In 2019, in one minute on the Internet users did an average of 3,8 million searches on Google, sent over 41 million messages on Whatsapp and Messenger and around 188 million emails. Social Media interactions are also worth highlighting. In sixty seconds on the Internet, SM users visited more than 347,000 stories on Instagram, watched 4,5 million videos on YouTube and sent over 350,000 tweets.
Growth of the Internet over the last decades
Internet users have grown at an impressive rate, from 248 million users in 1999 to more than 4,5 billion Internet users in 2019, according to the Internet World Stats. Besides, Social Media has also experienced an incredible growth over the last decades. For instance, Facebook has gone from having 100 million registered users in 2008 to 2 billion registered users in 2017.
At Stackscale we are passionate about the Internet and computing and we add value to this huge worldwide network by offering custom-made Private Cloud solutions that offer a high performance and security.