DE-CIX (Deutscher Commercial Internet Exchange) is one of the Internet Exchange Points that carries more traffic worldwide. Currently, it operates neutral interconnection platforms in Europe, the Middle East, North America and Asia.
DE-CIX Infrastructure and interconnection
The mission of DE-CIX is to make interconnection easy anywhere. It was established in the 1990s in Frankfurt, Germany, and began its international expansion in 2014. In Madrid — one of Stackscale's data center locations —, the IXP has hardware in the following data centers: Equinix, Interxion, Global Switch and GTT.
Its current infrastructure includes 25 IXP locations, accessible from thousands of data centers worldwide. In data centers where DE-CIX does not have its own hardware, they rely on partners to get customers connected.
DE-CIX Apollon platform
The Apollon platform is an Ethernet-based interconnection platform. It was built to manage the constant growth in customers and data traffic, and it is completely redundant. It is used at all DE-CIX IXPs, except for Berlin, Moscow, Saint Petersburg and the IXPs in India.
Traffic in Frankfurt
DE-CIX manages more than 10 Terabits per second in Frankfurt. Besides, in April 2022, it reached a traffic peak of 11.97 Tbit/s.
The following graph shows DE-CIX Frankfurt average traffic exchange during the past year (from May 2021 to May 2022). Daily updated Frankfurt stats are available on their website.
Traffic in Madrid
DE-CIX shows an unstoppable growth in its Internet Exchange Point in Madrid. Since the peak of 784 Gbit/s it reached during the Black Friday and Cyber Monday campaign in November 2021, traffic has continued increasing and has already exceeded 942 Gbit/s during the first few months of 2022.
The following graph shows DE-CIX Madrid average traffic exchange during the past year (from May 2021 to May 2022). Daily updated Madrid stats are available on their website.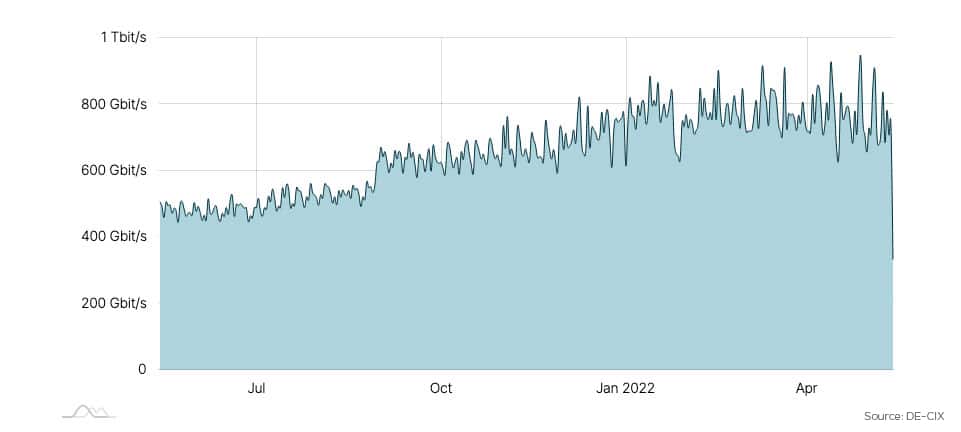 DE-CIX history and evolution
DE-CIX was founded in 1995 in Frankfurt, Germany. In 2020, it celebrated its 25th anniversary and it continues to grow worldwide. It started in an old post office, interconnecting 3 ISPs — MAZ (Hamburg), EUnet (Dortmund) and XLink (Karlsruhe). However, their founders quickly realized its potential and in 1998 they already moved the first switch to the Interxion data center.
Its growth in traffic has been amazing. It went from a peak traffic of 40 MBit/s in 1995 to 49 GBit/s in 2005 and 5.1 TBit/s in 2015. In December 2019, they set a new world record: 8,1 TBit/s. Currently, apart from its interconnection platforms in Germany, DE-CIX operates in many cities around the world: New York, Chicago, Madrid, Lisbon, Istanbul and Singapore, among others.
To celebrate its 25th anniversary, the IXP created a microsite about its 25 years of interconnection where you can find a lot of interesting data and content.
Stackscale is connected to DE-CIX with a clear objective: improving our connection routes to all the providers that exchange traffic there. In addition to the Deutscher Commercial Internet Exchange, we are present in other IXPs such as AMS-IX and we are interconnected to diverse Tier 1 operators and a great number of companies through private peering agreements.
Discover more about our network.