In IT, a Network Operations Center (NOC) is a centralized location where an organization's network team monitors, manages and optimizes networks, troubleshooting any network event that might arise. It is also known as "Network Management Center".
A centralized location for network operations
The NOC not only ensures seamless network operations but it is also the first line of defense against network disruptions and failures.
From this centralized network facility, the networks team constantly monitors and manages all network aspects, from performance to security, using diverse tools and technologies. This includes optimization efforts, troubleshooting and reporting on incidents, among other tasks. Moreover, it provides visibility into the infrastructure, from firewalls to servers, among many other elements.
Network Operations Center: mission and organization
The original goal of Network Operations Centers was to tackle the complexity of modern network operations, while ensuring high availability. Establishing and operating it has been common among large organizations for decades. But, as an increasing number of affordable solutions are available in the market, it is also gaining popularity among smaller companies.
As a matter of fact, nowadays, Network Operation Centers can be located either on-premise or outsourced to a provider offering remote monitoring and management services. An external solution or "NOC as a Service", based on the cloud computing model, is especially appealing for non-IT companies, as maintaining an internal NOC can become too expensive and time-consuming.
Moreover, relying on the right professionals is as important as defining the proper strategy and implementing the necessary technology and infrastructure. A NOC is usually formed by a team of system and network engineers that operate all networks 24/7. They usually come from different training backgrounds, such as network engineering, computer science and cryptography. The team is usually divided in three levels: level 1 taking care of the lowest issues and level 3 technicians (or NOC engineers) taking care of the most severe incidents.
What is the NOC responsible for?
These are some of the tasks the Network Operations Center is in charge of:
Network monitoring and management of computer, telecommunications or satellite networking environments. This includes infrastructure and user experience monitoring.
Performance optimization.
Network troubleshooting. This includes security software management to detect potential misconfigurations or issues that might negatively affect network performance.
Firewall management. It is also in charge of maintaining both physical appliances and software-based firewalls. Besides, it is responsible for ensuring the proper functioning of other elements such as VPNs.
Patch and update management, from user devices to network hardware.
Reports on network performance and incidents.
Benefits of having a NOC
Businesses require high availability and high performance at all times. Thus, having a Network Operations Center can bring many benefits that contribute to improving customer experience. For example:
Improvements in network performance and availability.
Optimization of resources and increased efficiency.
Automation of repetitive tasks and increase in productivity.
Increased business continuity and reduced downtime.
Security enhancements.
Improved visibility into the infrastructure or datacenter.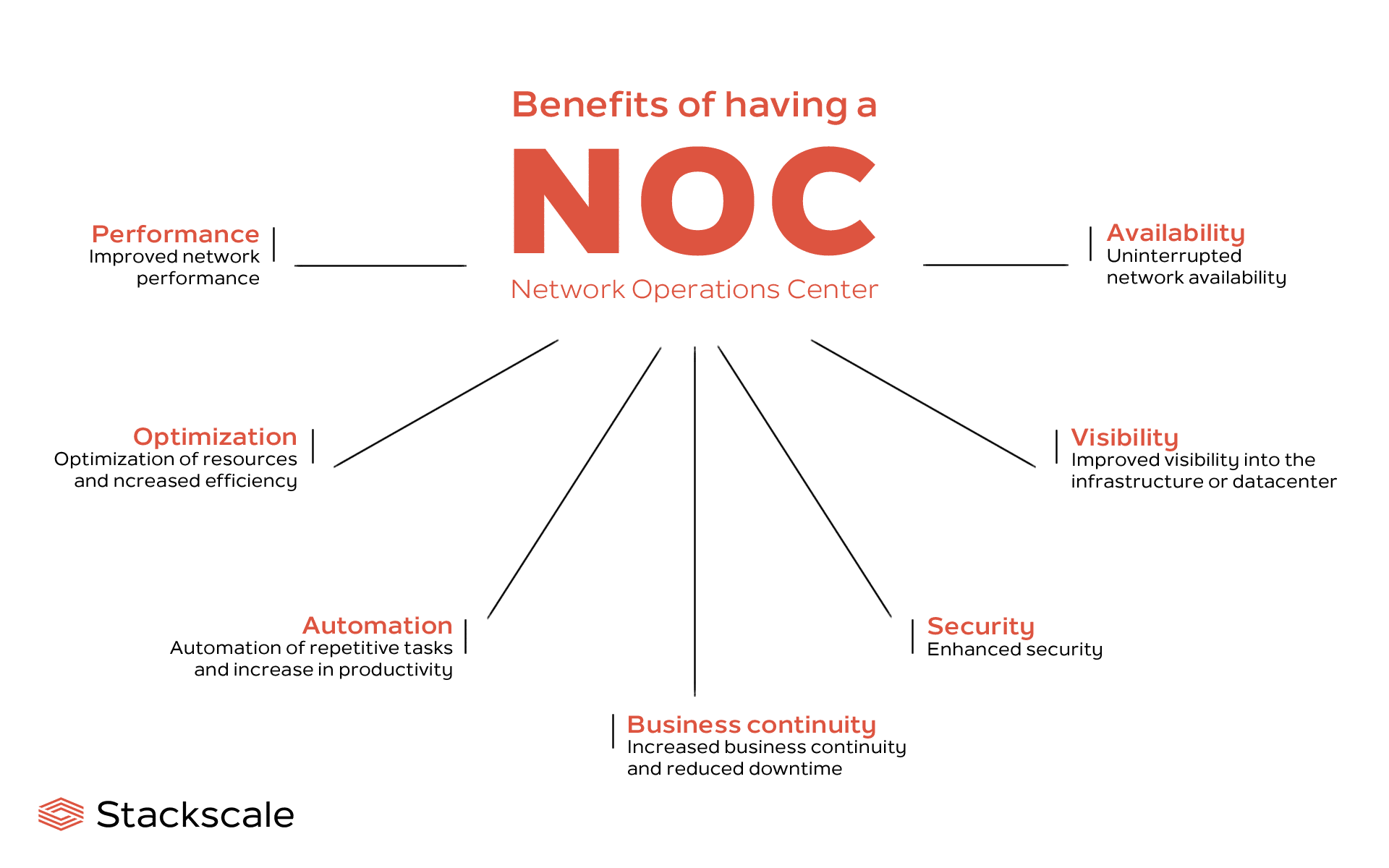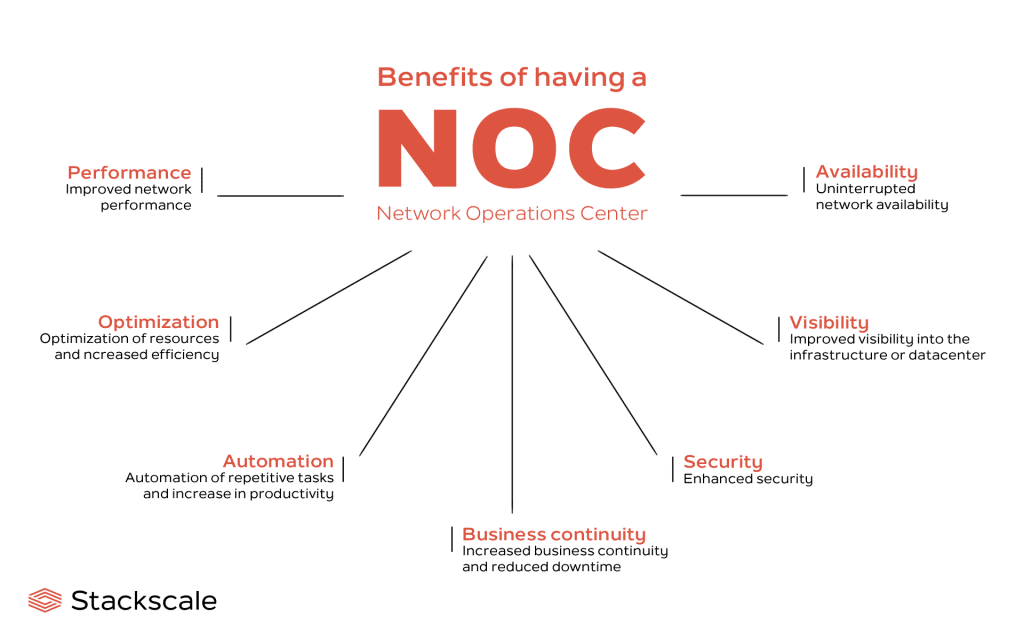 NOC vs SOC
On the one hand, the NOC team is in charge of monitoring, managing and maintaining network environments to ensure uninterrupted network availability and SLA compliance. On the other hand, the SOC team is mainly focused on security, monitoring and looking for vulnerabilities, emerging threats, cyber-attacks, etc. Nevertheless, both teams often work together and can even share the same space.
The Network Operations Center is usually the first one to notice network security issues and hardware failures, but the Security Operations Center is in charge of proactively looking for threats. For instance, in case of detecting an unusual network activity, the NOC team can alert the SOC team to look for potential vulnerabilities or threats.
At Stackscale, as part of our proactive approach to security and availability, we monitor all our cloud services, infrastructure and systems via our Stackscale Automation and Monitoring Platform (SAMP), integrating several software and hardware technologies. Our monitoring service includes, but is not limited to, the core network, the access network, network storage, computing nodes, backups and the SAMP itself.