Stackscale and Grupo Aire participate in the technological and entrepreneurial event TRGCON 2023. The TRGCON event stands out for including a lot of interesting content, inspiring experiences and many networking opportunities. Besides, the conference is always full of activities and workshops to learn new things and have a good time.
The TRGCON event will take place from October 26th to October 28th, 2023 in La Nave (Madrid). Although, as in 2022's edition, there will also be an online platform available for networking, watching the live event streaming and discovering more about the sponsors.
The conference addresses a wide range of topics related to designing, developing and commercializing digital products and services. It is carefully designed to create a relaxed atmosphere where attendees can discover projects, share experiences, learn and, above all, have a good time. So, it is a great opportunity to meet professionals with different backgrounds on technological innovation, software development and the Internet.
Stackscale and Grupo Aire at TRG23
In 2022, Stackscale's private cloud joined Grupo Aire to keep growing, expanding our portfolio of solutions and helping more companies make the most of the cloud. Therefore, in 2023, we will be together in La Nave to share experiences and talk about future projects.
Furthermore, in order to keep boosting growth, we keep looking for new backend developers and system administrators to join our team. As a curiosity, almost 70% of our team members have a technical background. So, if you are looking for new challenges, do not hesitate to visit our stand to talk about our open positions, about the cloud or about any other interesting topic that comes to your mind. David, Diego, Miguel and Lola will be happy to answer any question you may have (or simply chat for a while).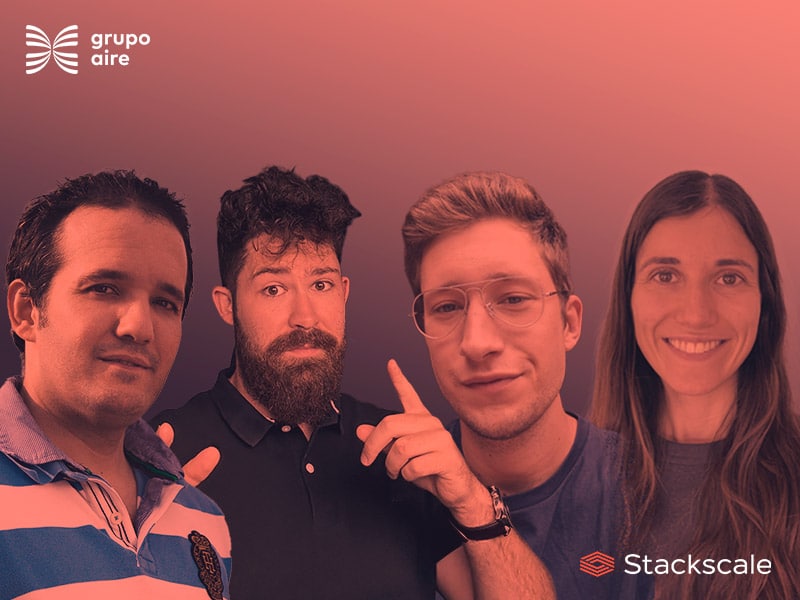 TRGCON 2023: workshops, talks and much more
The TRGCON event is a great opportunity for networking and discovering interesting people and projects. Here's a quick view of the scheduled activities:
October 26th: Workshops. The event will kick off with diverse workshops, icebreakers and a live podcast recording with Heavy Mental and Mixx.io.
October 27th: Main Event. Attendees will be able to enjoy diverse talks, interviews and much more.
October 28th: Community Day. The last day will be full of activities and workshops designed to be shared with family and friends.
As in previous editions, speakers will share their experiences and knowledge, and will address real problems. These are some of the scheduled talks:
Show me the money! by Isabel Garete, VP of Product at Landbot.
Fast Data! by Sergio Rodriguez, Head of Data Science & Data Engineering at Alpine F1 Team.
How to test when your code is running 600 million kilometers away by Sandra Hernández, Systems Testbed Engineer at NASA Jet Propulsion Laboratory.
How to design the architecture of your code repositories by Pablo Santos, Computer expert.
Finally, in addition to all this, attendees will be able to use Airmeet to plan 1 to 1 meetings and get to know other professionals and sponsors better.
Sounds interesting?
You can find further details about the event and get a ticket on the TRGCON website.
See you in La Nave, on Airmeet or on Twitter with the hashtag #TRG23!